Problem description #
How to get simultaneous internal forces and the list of load combinations of critical situations on nodes for connection design. It is always difficult to collect all the concurrently acting forces on every node. Especially if there is a lot of connection and more elements connect to the same node. AXISVM provides a result table, which contains and collects the governing and the simultaneously acting forces for each node.
Solution #
Internal forces are collected for each node in Table Browser.
After clicking on the Table Browser icon, a pop-up window will offer components of the internal forces to choose from to investigate.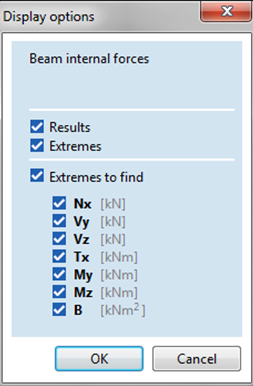 After that, under the Results >> Beam Internal forces >> Forces for connection design table will be available.
Internal forces regarding each node are collected in this table. With grey highlighted forces are the max/min values, meanwhile, the simultaneously acting components are displayed in the same line with white background. The table also shows the number of the line element, on which certain forces arise. In the last column, the critical load combination is specified.
There is also a possibility to view the connection loads per load combination.
The table can either be exported to the detailed documentation or selected and copied to an Excel worksheet for further usage.
By firstly selecting the nodes to be investigated, the table will only show information regarding the selected part or parts.